'Rock On Baby!' . . .
the Phoenix sessions
In early June 1966 Bill and the Comets were playing at "JD's Lounge" in Phoenix, Arizona. The owner of the club, James D. Musil had previously supervised a recording session at the club with Waylon Jennings and was keen to repeat the exercise with Bill. However Bill couldn't find the time to fit this into his busy schedule and so he returned to JD's in August the following year.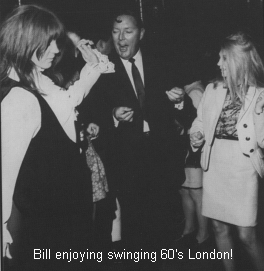 The plan was to record without the Comets and two songs were selected, "Jealous Heart", the familiar country standard, and a brand new song called, "Rock On Baby". The latter song was written at Jim Musil's request by Mike McFadden, the leader of Superfine Dandelion. This group also backed Bill on this particular track.
On "Jealous Heart" the backing was provided by a local Mexican Mariachi trio. The resulting recording was stunning, it was one of Bill's finest vocal performances. Bill Had high hopes for both the records and he expressed his concern that on the final release not too much overdubbing would be employed, as he liked the simple combination of voice and guitars. He need not have worried, there was no tampering with the sound, for the tapes lay untouched and unreleased for the following 32 years.
"Rock On Baby" suffered the same fate, remaining in the vault until Bear Family Records included it in their second Bill Haley box set. While not to everyone's taste this record does represent a genuine effort by Bill to update his sound for a contemporary late 1960's audience.

"Rock On Baby" Bill Haley style!