BILL HALEY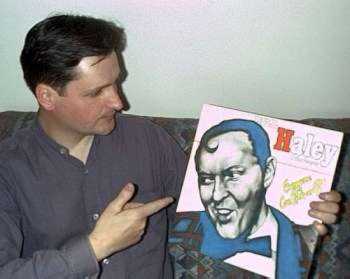 I've been a Bill Haley fan since I first heard "Rock Around The Clock" some twenty-six years ago. At the age of eight I saved up my pocket money and purchased my first Haley LP from Woolworths. I was fortunate that my local record shops stocked a healthy supply of albums and throughout the mid-seventies I expanded my record collection and soon became familiar and fascinated with the different phases of Bill's career.
Most of my school friends were listening to the pop music of the day - Queen, Genesis, Motorhead etc. However they were quite taken aback and surprisingly appreciative of Bill's talents when I'd take my portable tape deck into the classroom and give them a blast of "Corrine Corrina" or "Shake Rattle and Roll". So much so that I suceeded in making a few converts to 50's rock n' roll. And it was one of these "converts" who accompanied me to my one and only Haley concert back in 1979.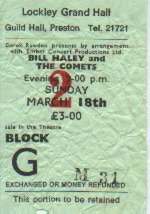 On Sunday March 18th 1979 my friend, his brother and my older brother made our way up the M6 motorway to Preston Guild Hall. The support bands were the Wild Angels and the Flying Saucers. At the time I'd never heard of them, and to be quite honest they didn't make much of an impression on me. Our seats were towards the rear of the auditorium, but it soon became obvious the place was not going to be filled. Having sat patiently through the two support bands, they finally announced the main event. The "Comets" were introduced one by one - names I was unfamiliar with, for this was a very young and mainly British set of musicians accompanying Bill that evening. At last, he came on stage, the crowd went wild I found myself joining the other four or five hundred people running towards the stage. Finally ending up a few rows from the front standing on the seats as Bill launched into "Shake Rattle and Roll". Here I was, at fourteen years of age, wearing my new fake leather jacket, a few feet away from my hero as he belted out a song I had heard him sing on record so many times before. Security at the show was poor and throughout each ensuing number poor Bill was accosted by young girls rushing up onto the stage flinging their arms around him and kissing him! During "Caravan" the drummer suffered the same fate. I well remember him asking the audience to "cool down", but it was to no avail. And a mere 25 or so minutes after he took to the stage, he left, to cries of "We want Bill". Even so I'd had the pleasure, however fleetingly, of seeing and hearing the man who started it all and who will always remain the original King Of Rock.
Rik Sings!!! - yes that's right - it has been known for yours truly to deliver a tune or two. Take a listen if you dare!

MP 3 Hallelujah I Love Her So