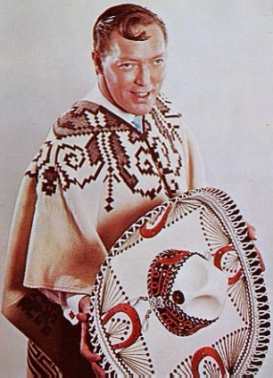 The Spanish Twist
The country of Mexico was to play a large part in the life of Bill Haley. At the dawn of the 1960's with mounting tax debts and a marriage that was all but over, Bill sought solace in the warm temperate climbs south of the border. He felt comfortable here far, far away from the tax man and avoricious divorce lawyers. For a time he could forget all his worries and relax, or as we might now say in the 21st. century, "chill out". So it was that in 1961 he set up home in Mexico.
As luck would have it at around this time a new dance craze had started to sweep the nation, the Twist, and Bill Haley and the Comets would become the biggest exponent of the new craze in Mexico. The domestic record label, Orfeon approached Bill with an attractive deal, one that still left him free to sign with a US record company if he chose to do so. Thus a new chapter of the Bill Haley story begins. Over a five year period with Orfeon he and the Comets were to record no less than 100 titles. It has to be said that many of these were instrumentals, some of dubious pedigree. In as much that the actual personnel playing on a few these records may not have been 100% Comets! Bill for his part made the obligatory re-makes of his biggest hits complete with 60's style backing of howling and screaming for a contemporary audience. The picture was not all negative , for during this time he was also to record some of his finest work.
Early on he decided that if Mexico was going to be his new home he might as well make an effort to learn the language. The fact that he had met a pretty young Mexican singer and dancer, Martha Velascao, may also have been a contributing factor in his decision.
So in 1961 Bill Haley made his very first recordings in Spanish. One of these, "Florida Twist" shot right to the top of the charts and eventually became the biggest selling single in Mexico's history. Other titles followed all sung in Spanish by Bill, "Twist Espagnol", "LaCucaracha","Jimmy Martinez" and a beautifully sung "Cerca Del Mar". Despite all this success, Bill's association with the label came to an abrupt end in 1966 over a disagreement concerning the non payment of royalties.
Meanwhile during this time back in the USA he had been through a number of independant labels. He cut "Spanish Twist" an English language version of "Twist Espangnol" for George Goldner's New York based Gone company. After much lobbying by fans in the UK it was released there on the London label in 1961.

"Adios Marquita Linda" Bill tackles a lovely ballad


"Florida Twist" The tune that launched Bill as the King Of The Twist!
Gone gave way to Newtown where he tried his luck with "Dance Around The Clock" (also recorded for Orfeon). Further changes of record label followed until 1964 when Bill called up his old producer from the glory days, Milt Gabler almost begging him for another chance to record for Decca. Gabler approached his superiors and they reluctantly agreed to give Bill one more shot at a hit. The resulting single "Green Door" and "Yeah She's Evil" recorded at the New York Decca studios in 1964 are 2 of Bill Haley's best records. Yet they failed to make their mark with the record buying public.

"Dance Around The Clock" a song title harking back to the glory days


"Yeah She's Evil" failed to rekindle interest Stateside in Bill's career
No doubt somewhat disolusioned by his experience back at Decca and lack of further success with subsequent releases on yet more small labels Bill decided to try something completely different. For his next session he ditched the Comets completely!