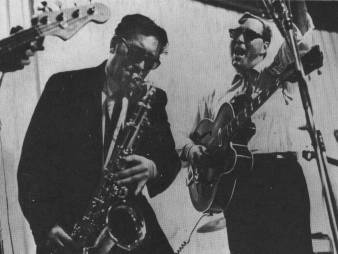 Having signed Bill to the label, Swedish 'Sonet' wasted no time in setting him and the band to work. They gathered together a small but appreciative audience in a Stockholm studio in June 1968 and recorded 2 'live' albums. The Comets featured Al Rappa on bass, Nick Nastos (a.k.a. Masters) lead guitar, John 'Bam Bam' Lane on drums and Rudy on sax. The sound they produced was terrific, new life was breathed into all the old hits. Bill was even given the chance to return to his Country and Western roots with a fine rendition of 'Cryin' Time'. Vocal honours were shared between Rudy on 'Kansas City' and 'New Orleans', Nick on 'Whole Lotta Shakin' and the fine Irish tenor of Bill's manager Patrick Malynn featured on the high pitched introduction to 'Alligator'! All in all the band (and the audience) sound as though they are having a ball. Therefore the third album was to prove something of a disappointment and the choice of material remains a mystery. Yet more re-workings of the old hits but this time in a studio minus the audience. A pedestrian 'Clock' and a very laid back 'Shake, Rattle & Roll' feature alongside the rather turgid 'Love Letters In The Sand'. However the album's saving grace is the never less than excellent playing of both Rudy and Nick. Bill also scores on 'Flip Flop & Fly' and the intriguingly titled 'Ling-Ting-Tong'.
It now seemed that Bill's renewed career in the recording studio had stalled before it had really got started and all we could look forward to were yet more cuts of the same old hits.
Meanwhile, back in the States . . .
Bill's recent European successes both on stage and on record (Rock Around The Clock had hit the British charts yet again in 1968) and his appearance on the Richard Nader Rock n' Roll revival shows across the USA, came to the attention of some major US record labels. Since the Beatles invasion a few years before, they obviously sensed that what Europe was doing today, they would do tomorrow!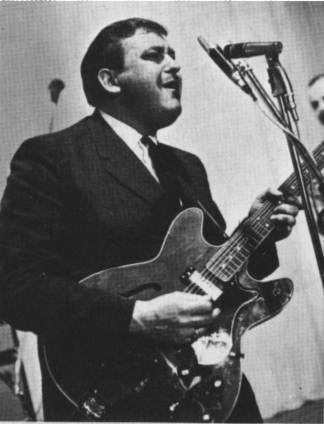 Thus it was, that Bill Haley and his current crop of Comets - Rudy, Bill Miller (lead guitar), Johnny Kay (rhythm guitar), and session men Bobby Monk (drums), Bud Sharp (bass) and Moe Wexler (piano) entered Century Studios in New York on 22nd October 1968. They were due to record just 5 tracks for the United Artists label.
First up was a country song written by Tom T. Hall - "That's How I Got To Memphis". Many Haley fans and historians have cited this as the finest record Bill ever made. And it's hard to argue with them. Everything about this recording is perfect, from the heartfelt vocal performance to the use of strings and harmonica in the beautiful arrangement. This was obviously going to be the 'A' side of the record, and it was to Bill's bitter disappointment it didn't make the charts. Despite favourable responses from DJ's, across the States, United Artists failed to put their full promotional backing behind the record. They even failed to release it in the very market, Europe, where Bill was enjoying his greatest success.
The flip side of "That's How I Got To Memphis" was rooted firmly in late 60's 'pop' genre - "Ain't Love Funny Ha Ha Ha", was an interesting song featuring the same kind of string arrangement used on "Memphis". However while Bill did what he could with the lyrics it can't have been easy to put any kind of feeling into the "Ha Ha Ha's" demanded by the title!
At the session the first 2 songs were polished off so quickly there was plenty of studio time left so they cut 3 more numbers. Again "Flip Flop & Fly" was brought out and dusted down! This cut is a complete contrast to the Sonet version recorded only 4 months previously. It really is a fantastic record and goes to show that Bill and the band could still come up with the goods when they had a mind to. Bill is in great form as he hollers "come on Moe go " at session piano player Moe Wexler. Amazingly this superb record lay dormant in the vaults until 1992 when it was released on a Jodimars and Haley compilation CD by Rockstar Records.

Flip Flop & Fly - recorded October 1968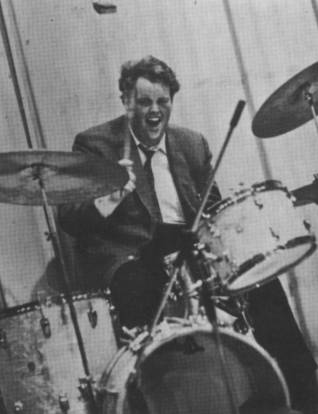 Unlike most big stars, Bill had never recorded a Christmas album. In fact he'd only ever recorded 2 Christmas tunes way back in his Saddlemen days on the "Holiday" label. Perhaps he thought there might be a chance to return to the charts with a seasonal hit, so the session finished with "Jingle Bell Rock" and "Rockin Around The Christmas Tree". Neither of which must have appealed to the bosses at UA, for they also remained unreleased until the early 90's.
After only one session, Bill's contract with UA expired and he was not keen to renew it . . .
. . . enter one Samuel Charters, author and musicologist. An authority on the 'Blues' having written a number of books on the subject. He was also a talented record producer and found the idea of recording Bill and the Comets a fascinating challenge. As Bill still had a yearning to record a country album Sonet relented and assigned Charters to the project. The two men first met at a small club in New York where the band were performing. Charters was knocked out by the bands commitment and enthusiasm and soon became great friends with Bill.