BILL HALEY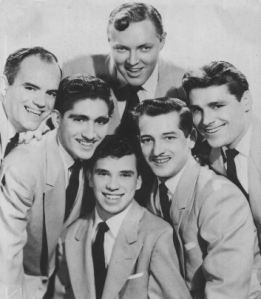 'You women have heard of jalopies, you've heard the noise they make', so began the song that was to break the mould and create a piece of musical history. 'Rocket 88' originally recorded by the black group Jackie Brenston and his Deltacats. The year was 1951 and this was the first time a white country singer had covered a hard rhythm and blues tune. Danny Cedrone supplemented Billy Williamson's guitar playing on this release and Haley delivered the song in a low, forceful vocal complemented by Al Rex's heavy slap bass.

In 1952 the band cut 'Rock The Joint' with sales topping 75,000. In early 1953 Bill began further developing his formula for what was ultimately to become rock and roll. He added drums to the line up, initially hiring young drummer Charlie Higler. He was replaced in the Summer of 1953 by Dick Richards. The transformation from Western swing band was almost complete. Only one last ingredient remained to be added in the form of sax player Joey D'ambrosio. Whilst 'Rock The Joint' had been a modest hit, their next release was to give them their first taste of stardom. 'Crazy, Man, Crazy', written by Haley and Marshall Lytle sitting at Bill's kitchen table. The lyric was purportedly based on a phrase Bill picked up while performing on one of his numerous high school shows.

On a personal level the pressures of touring began to take their toll on his marriage ultimately leading to his divorce from Dorothy. He was shortly afterwards to marry a pretty young blonde girl, Barbara Joan Cupchack (Cuppy).

'Crazy, Man, Crazy' shot into the U.S. Top 20 and gained Haley national success. Newspapers ran stories which gave the impression that Bill's story was one of overnight success, conveniently forgetting it was the culmination of many years hard work.

we're gonna Rock . . .
April 12th 1954, Pythian Temple Studio, West 80th Street, New York City. The song that introduced rock & roll to the unsuspecting public was recorded in a converted ballroom, the high vaulted ceilings adding to the dynamics of the recording.

The Comets - Danny Cedrone, Billy Williamson, Johnny Grande, Joey D'Ambrosio (tenor sax), Marshall Lytle (bass) and Billy Gussack (drums)*, stood on a stage, some four feet above Haley. He stood, facing the stage, on the beautiful wooden dance floor, close to the microphone, about eight feet from his musicians.
*at the insistance of Gabler the Comets regular drummer, Dick Richards was replaced by Gussack at the session
1,2, 3 o'clock
Milt Gabler, sat in the control room, urging the engineers to crank up the levels, as the meters bounced up into the red.

Gabler was an experienced producer, having previously recorded The Inkspots, Louis Jordan and Ella Fitzgerald. He was to remain in control of Bill's recording dates for the next 5 years.

The second song recorded at that historic session was an unusual novelty tune, 'Thirteen Women'. The premise of the story being an explosion of an 'H' Bomb, leaving only one man and thirteen women alive!

And that was it. Just two titles. Decca presumably testing the market for this new style of music before committing themselves any further.

They were not to be disappointed. With initial sales topping 75,000 the band were signed to the label and the next session planned for June 7th. Although 'Clock' was a modest hit, it wasn't until the song was used as the title track on the movie 'The Blackboard Jungle' some 12 months later, that it became the first anthem of Rock & Roll. Estimates state that Haley was eventually to sell over 25 million copies of the record.
Shake, Rattle & Roll . . .
The follow up to 'Clock' was the r&b song 'Shake, Rattle & Roll'. The song had originally been a hit for Joe Turner. But while Turner's version has a blues feel to it Haley's version is most definitely rock & roll. It was the first rock & roll record to sell a million copies. His next release 'Dim, Dim The Lights' broke into the r&b charts. More exciting songs of this new genre followed - 'Birth Of The Boogie' with its' thumping jungle beat - 'Razzle Dazzle', an out and out dance tune and 'Two Hound Dogs', called rhythm and Blues!
. . .Then late in 1955, just as the band had established themselves as major stars, Joey d'Ambrosio, Dick Richards and Marshall Lytle left the Comets. They formed the Jodimars (a name derived from their respective names, JOey, DIck & MARShall). Capitol records immediately signed them, but unfortunately success eluded them. However they did produce a number of superb original rock & roll tunes such as 'Well Now Dig This', 'Lets All Rock Together' and 'Rattle Shakin' Daddy'. All of them with the unmistakable 'Comets' sound.
The next stage in the development of the Comets was crucial. Bill needed musicians in a hurry to fulfil his live bookings. Al Rex rejoined to play bass. Frank Beecher who had featured on the bands recent recordings played lead guitar. Finally they were joined by one of the most enduring members of the Comets, Rudy Pompilli on tenor saxophone. This was the classic Comets line-up. In the coming years audiences throughout the world would marvel at the antics of Rudy and Al. Rudy belting out his sax solos, arching his back until he was virtually lying flat on the floor. And Al throwing his bass up into the air, then jumping onto its' side while still playing. This was truly the very first integrated rock & roll band. Bill was more than happy to share the spotlight with his very talented musicians. Rudy's show stopping solo, 'Rudy's Rock' and Frank Beecher's 'Guitar Boogie' being examples in point. And then with the audience at fever pitch, Bill would come out and finish the set with 'Rock Around The Clock'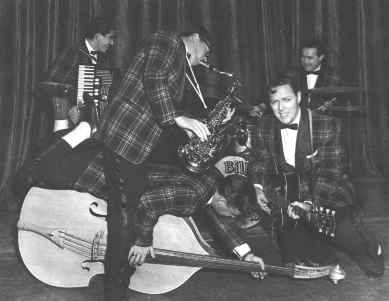 R - O - C - K
'Haley Came Along With The Rockin' Song'
Back in the studio this new group set to work and consolidated its' position by making further excellent records. 'R.O.C.K.' was the first of these, charting in song the birth of rock & roll. The flip side of this record was Haley's own composition 'Rock-A-Beatin' Boogie', a small hit for the Treniers a few years before. The 'Saints Rock & Roll' gave each member of the band the chance to perform a small solo. At the finish the song rises to a wonderful crescendo reprising the final instrumental chorus of 'Rock Around The Clock'.
The next really big hit came with 'See You Later Alligator'. A version had already been released by Bobby Charles on the Chess label. Gabler needed to get Bill into the studio quickly to record it. This was the only song the band cut at the main Decca studios, and they literally had to break into the place on a Sunday to cut the record. Gabler having forgotten the keys to his office.