Alligator' sold a million copies within a monthof release and was the first Comets record to feature Ralph Jones on drums. He would now replace Gussack on the remaining Decca recordings.

Rudy's Rock
Rudy Pompilli, the Comets sax player supreme was showcased on the follow up instrumental release 'Rudy's Rock'.
The song would feature in the film 'Rock Around The Clock' later in 1956. On 'Goofin' Around' Frank "Franny" Beecher's wonderful lead guitar playing is used to full effect. However having just left the Benny Goodman band, Bill thought some of his riffs a bit to jazzy. A quiet word or two and Beecher adapted his playing to suit the Comets sound. Rudy and Franny would complement each other perfectly on 'Calling All Comets' another instrumental triumph. It is obvious to jazz fans who listen to these recordings how much the arrangements owe to Louis Jordan and His Timpany Five, a group Milt Gabler had recorded some years earlier. Indeed Haley's next release was Jordan's old hit 'Choo Choo Ch'Boogie'. Meanwhile the hits kept on coming with 'Hot Dog Buddy Buddy', a phrase Bill had heard the kids using at his shows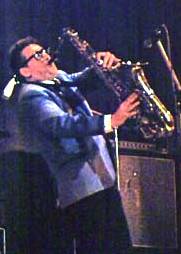 Rock & Roll Stage Show
. . . & the concept albums
The songs mentioned above along with 'Rockin' Through The Rye', 'A Rocking Little Tune', 'Hide and Seek', 'Hey Then , There Now', 'Hook, Line and Sinker', 'Blue Comet Blues' (another outstanding instrumental) and 'Tonight's The Night', were all featured on the album 'Rock and Roll Stage Show'. This record was one of the very first 'concept' albums. The aim was to provide listeners with a taste of what a 'Bill Haley & the Comets' show was really like. Opening with an instrumental, followed by a vocal number by Bill, then another instrumental and then a vocal by Billy Williamson and the rest of the band. As stated in the original album notes 'These are the tunes that highlight the current Bill Haley Rock n' Roll stage show, fresh, original explosive tunes, performed with that lustrous, always-in-motion excitement that brings the happy, swinging Rock n' Roll party right into your own living room!' This was truly the very first Rock & Roll Band with each member of the group playing a vital part in creating this new form of popular music.
The next big project on the horizon was the bands next feature film 'Don't Knock The Rock'. As well as performing the title track Bill and the band performed an excellent version of 'Rip It Up', a song that would feature in their live shows for the next 20 years.
In March 1957 the sessions for their next album took place
Rockin' The Oldies . . .
was an intriguing idea that produced some fine performances. Why not take some well known songs from the past 20 or 30 years and add a modern rock & roll beat? Presumably the idea was to attract the older generation to the music whilst still retaining the youth interest. Particularly good were Bill's performances on 'You Can't Stop Me From Dreaming' and 'One Sweet Letter From You'. Due to the fact Rudy Pompilli had fallen ill after a grueling European tour he was replaced on these sessions by tenor sax player Frank Scott. Rudy must have been eternally grateful to Scott for standing in for him on one of the bands less notable numbers, 'Rockin' Rollin' Rover', a song about a puppy who alternately wags his tail, wiggles his ears and taps his paw in time with the music! Perhaps Bill was harking back to his earlier days when he drew on childrens nursery rhymes for inspiration. In my view, the songs only saving grace is Scotts excellent sax solo.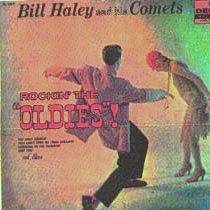 Four months later, with Rudy back to full strength, they cut three great tracks that marked a return to Bill's Country and Western roots. The Hank Williams tune 'Move It On Over', 'How Many?' a lovely country ballad (Bill would return to record twice more) with a fine sax solo by Rudy and finally 'New Rock The Joint' an update of his 1952 hit.
'Move It On Over' features the Comets at their best, Frank Beechers fluid guitar playing between each chorus along with Bill's forceful vocal add up to an archetypal Bill Haley and The Comets performance.
Rockin' Around The World . . .
became the next album project in November '57. Twelve songs were recorded each one was meant to represent a different country. By this time the band had toured most of the world and the sessions began soon after their return from Jamaica.
Although the initial concept was a good one, some of the material left a lot to be desired. But even in the weaker songs the bands playing is never less than perfect. One highlight of this release is 'Jamaica D.J.' with a wonderful vocal by Billy Williamson complete with fake Jamaican accent! Bill is in great form on 'Me Rock-a-Hula', 'Rockin' Matilda' and 'Pretty Alouette'.
With the album completed, the band recorded their next single release. Again Bill returned to a country flavoured ballad, 'It's A Sin' dating from 1947. A nice arrangement featuring a fine sax solo by Rudy. This was backed by a great up-tempo rocker 'Mary, Mary Lou'. With this song the 'Comets' return to their roots and all the old 'riffs' and 'licks' come into play, complete with a slightly revised reprise of the final instrumental 'Rock Around The Clock' chorus.
My Skinny Minnie is a Crazy Chick !