Skinny Minnie . . .
became the next big hit in early '58. Bill delivered one of his best performances with a bluesy vocal harking back to his recording of 'Rocket 88'. The same session in February produced two more cuts, 'Sway With Me' and 'The Walkin' Beat'. The latter featuring a great boogie woogie piano arrangement. However the obvious similarity between the Danny & The Juniors hit 'At The Hop' worried Milt Gabler and he withheld it from release.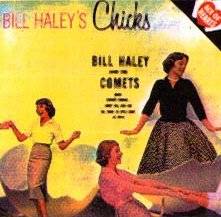 'Skinny Minnie' along with the follow up single 'Lean Jean' would feature on the bands next album 'Bill Haley's Chicks'. All the songs included girls names in their title. The Recording began in June '58, Joe Turners old hit 'Corrine Corrina' was a high spot. A great arrangement starting with just the drum beat and Bill's vocal, eventually building to an instrumental crescendo in traditional Comets style. These were the first of the bands sessions to be taped in 3 track stereo. Unfortunately the majority of these stereo masters remain unusable due to faulty recording equipment.
In January 1959 the Comets entered the studio once again. These sessions were to produce one of the last great Decca recordings by the band. 'Where Did You Go Last Night ?' was one of Bill & the Comets finest performances. He also cut the Ray Charles Hit 'I Got A Woman' and gave one of his most accomplished vocal performances on 'A Fool Such As I'. Franny Beecher was used to full effect on the instrumental 'The Catwalk', playing his guitar in such a way as to reproduce a cat purring! Meanwhile Gabler suggested Bill record Louis Jordan's old rhythm & blues hit 'Caldonia'. Again Bill and the band came up with the goods but the record buying public chose to ignore these latter releases.
Both Milt Gabler and Bill realised the market for their records was changing. Other artists had come along in the past few years most of them younger than Bill and more appealing to the teenage record buyer. Little Richard, Jerry Lee Lewis, Gene Vincent and of course Elvis were offering something a little more dangerous and rebellious. Bill Haley & His Comets were there first, but now they were part of the establishment, maybe even the kids parents were buying the records. With this in mind their final recordings with Decca tried to appeal to this older generation of record buyers. On the 17th September 1959 they went into the studio to record 'Strictly Instrumental'. As the title suggests the album comprised entirely of instrumental cuts. In some degree this concept proved successful gaining the band two more hits with 'Skokiaan' featuring Rudy Pompilli and the Italian flavoured 'Joey's Song'.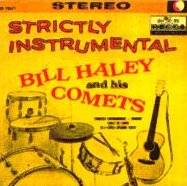 About this time Bill's contract with Decca came up for renewal. Although the company were apparently happy for him to stay, a very tempting offer from the newly formed Warner Brothers label swayed his decision. And so he along with the Comets entered the Pythian Temple for one last time* on the 24th September 1959 to fulfill his contractual obligations to Decca. The final cut being an instrumental version of 'Mack The Knife'
*In June 1964 Bill along with his then, current line-up of Comets recorded one more time at the Pythian Temple. With Milt Gabler producing they recorded two sides, 'The Green Door' and 'Yeah, She's Evil!'